So this is what it feels like to bring a knife to a gun fight....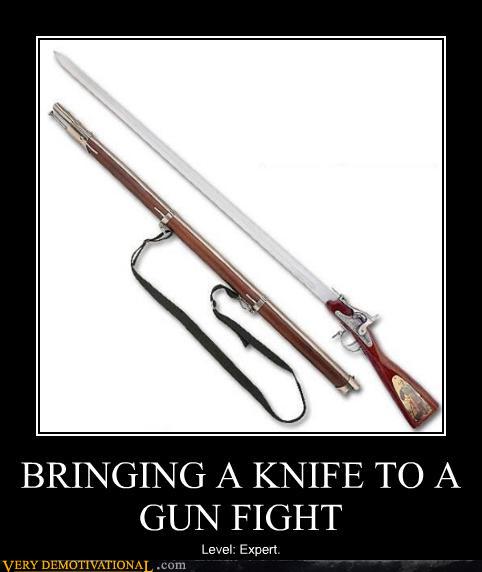 I guess it's my fault (or Ben's...Grrrrr). After taking the only level 4 to the tournament last year, and winning the thing, I thought I would take something more Fluffy to this years tournament as I felt this would be more in line with the "Theme of the Tournament".
It feels like I have fallen for someones well concieved trap..
Just joking. The armies that have been subbed are all strong armies. A Slaan!!! (really.....) The Mournfang and Demigryphs have also come out to play. And Mike with all subtlety(sp?) of a sack of hammers to the face. There seems to be an abundance of flaming banners and rings to kill my poor little Trolls :( Kinda feels like the War of the Beard too with all the Dwarfs and Highelves.
As for predictions, I think there are a few armies and players that stand out, so I will give you my top few placings.
I think the top 2 spots will be fought out between Mike with his Daemons of redness, and Joel with his fuckin angry birds. In that matchup if Joel can keep the letters away from his Halberds, I think the Demi's will do a number on the Letters.
Caleb and his Lizos have the ability to not loose if he doesn't want to, but can he push for the big wins??
David A has taken all the toys in the world, but are they made in China?? I don't know what I would do against those freekin gutter runners...
The Dwarfs are in town
and have brought
there warmachines and
stuff..................
sorry fell asleep there for a moment. I really don't know what Dwarfs do apart from shoot, not move, and build sandcastles.
All the Ogres are strong as normal..."push it foreward FTW". Nuf said.
High Elves will be squishy, sorry but I can't see them challenging. Although I haven't seen James's list yet.....
The Wood Elves will be annoying as shit. Alex's (sorry Joel's) list is well thought out and should be very tough to deal with if played correctly.
Sorry Ray but I can't see that Daemon Prince living very long. You must be in the same fluffy camp as me.
Then there is Mr Peter Williamson. His list will cause everybody headaches. I rate Peter as one of the top generals in the country, so when it comes to crunch time, I can see him sniffing around the top 3 spots.
I honestly don't know how to rate the VC list. Those 30 Ghouls could be problematic, but the rest seems squishy enough.
Joel Vdvndjenddjdjdd.......long
So I am picking Joel to beat Mike last round and take the tournament.